Yesterday we were in this very window watching Mom work in the yard. It was sunny and beautiful and in the high 60s. We had the window open! But we live in the high desert where anything can happen. And it did! It's still snowing and we're supposed to get several more inches through the night. That's pretty unusual for us.
The bad news is that Mom's hunting grounds are only about a mile away, and even though I don't really know how far that is, I know it's not far enough away for a snow day. I do know we could snuggle all day if it were!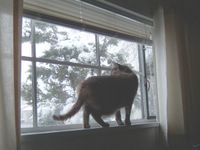 Olivia checks it out.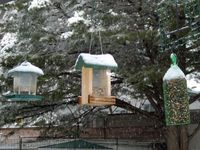 No school Foster-Glocester!
(My mom says "Thanks, Salty.")